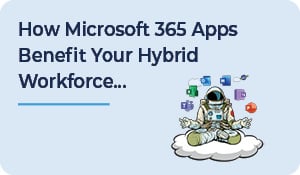 Companies big and small are having discussions and making decisions about how to bring staff 'back' in 2021 and 2022. After many businesses rushed to get employees set up remotely, we are now looking at the relationship with remote/hybrid work for the long-term.
Many companies already know about the benefits of cloud solutions and Microsoft 365, but the pandemic and our quick shift to WFH put the M365 and other collaboration suites to the test. Thankfully, we've seen our clients flourish by making the best use of tools like Microsoft Teams, OneDrive, SharePoint, Microsoft Forms and Microsoft Workflows.
Read on for a breakdown of some of these cloud applications and how you can use them for your hybrid office and remote team.
Unleash collaboration with Microsoft Teams
Collaborative applications offer many benefits for working from anywhere. The Microsoft Teams app, which is part of the Microsoft 365 suite of products, allows users to make calls to other teammates via their computers, tablets and smartphones, while allowing face-to-face interaction with the video option.
Other benefits of Teams include:
Chat tool for quick conversations

Connect anytime and anywhere (with internet connection)

Organization of groups, meetings and documents

Host meetings

Share files

interactive webinars
Work together with PowerPoint
If you are comfortable with the PowerPoint presentations that you have already built for sharing information, then allowing you to share these with PowerPoint Live within Teams is also a brilliant option for you. As a presenter you can lead meetings confidently with notes, slides, chat and view participants all within the same screen. With the Presenter mode it enables you to customize how the video and content appear to the Teams audience. This creates impactful and dynamic presentations and allows you to connect with the group naturally.
When you purchase your license for Microsoft 365 you gain an entire suite of applications that allow you to work seamlessly from anywhere on up to 5 devices.
Get organized with Microsoft SharePoint
Microsoft SharePoint provides cloud-based storage that allows you to access files from any device. When you store your data and files in SharePoint, you gain the ability to access files saved in SharePoint from anywhere with an internet connection. So, whether your team is in the office, working from home, or on the road, they will be able to access what they need.
SharePoint also allows live collaboration, meaning that multiple teammates can be in a file making edits and working together at once. No more waiting for someone to send you an updated version or sending files back and forth to get work done – it can all be handled in real-time with M365.
Benefit from Microsoft's investment in M365
Microsoft continuously develops new applications, features and updates to the M365 Suite. With over a trillion dollars committed to product development, you can trust that Microsoft will continue to improve the user experience for in-house, remote and hybrid teams.
They are also heavily committed to your security. Regular patches, updates and security changes are released and rolled out to ensure security of your documents and data.
Microsoft is even taking the time to improve things like printer access with Universal Print & Multi-Geo – both of which make it easier to locate print devices for teammates with different needs.
For more info on hybrid work straight from Microsoft, check out this article.
If you are ready to take advantage of the benefits M365 has to offer, our IT pros are available to get you up and running. Contact us today.